Warm Salads to Carry You Through Winter
Sheela Prakash | My Body
Today: Bulk up your winter salads with warm ingredients to satisfy you on the coldest of days.
As the temperature continues to drop, we find ourselves less and less satisfied with our standard lunch salad. We keep cool through summer by crunching on a big bowl of vegetables, but come winter, we'd rather spend our lunch hour warming ourselves from the inside out — digging into a bowl of piping hot soup or pulling apart a gooey grilled cheese.
What these blustery days call for is a salad that suits the season, bulked up with warm components to make it a bit heartier and a whole lot more satisfying. Warm salads are decidedly retro, and that's fine by us — they fulfill our need to feel toasty inside during the shivering days ahead.
Serves 2
For the salad:
2cups Brussels sprout ribbons (about 6 Brussels sprouts, chopped width-wise to create ribbons)
2cups chopped kale
3strips bacon, cooked and chopped
1/4cup shredded Parmesan
Sprinkle of shelled sunflower seeds
Salt and freshly ground pepper
For the dressing:
1/4cup balsamic vinegar
2tablespoons olive oil
1tablespoon honey
1/2teaspoon soy sauce
Combine the kale and Brussels sprouts in a medium bowl. Add the bacon, cheese, and seeds; toss everything to combine.
Whisk the dressing ingredients together in a small glass. Heat the mixture in the microwave for 20 seconds, then whisk the dressing again and toss it into the salad. Season with salt and ground pepper.
Here's are a few of our favorite ways to warm up otherwise cold and crunchy salads: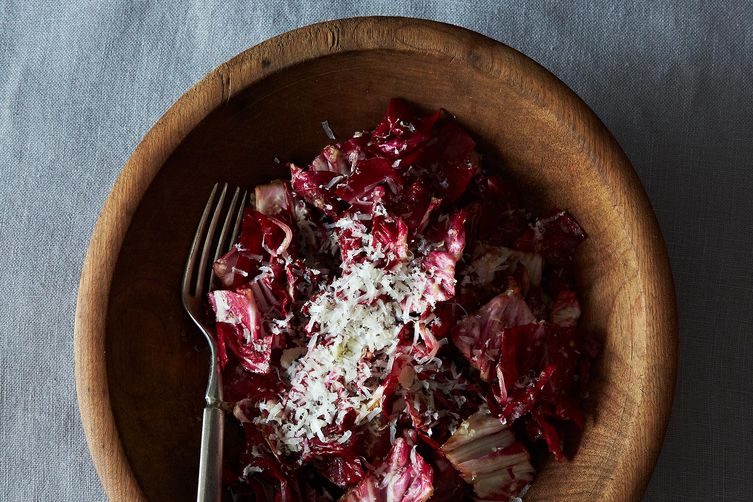 Heat your favorite vinaigrette in the microwave and toss it with hearty greens like spinach, kale, radicchio, or escarole for a warm, wilted salad. Add a handful of crumbled cheese, toasted nuts, or a sliced hard boiled egg to make it a more substantial meal.
Leftover roasted vegetables, cooked beans, lentils, or grains, warmed up in the microwave, are a quick way to winterize any salad.
Garnish your salad with baked goat cheese: Cut 1/3-inch rounds of soft goat cheese and roll them in nuts or breadcrumbs. Pack the cheese along with your salad, then bake or broil it in a toaster oven until golden brown and warmed through.
Serves 4 to 8
2 to 3heads radicchio (4 quarts, once chopped)
1/4cup good-quality balsamic vinegar
1/4cup good-quality sherry vinegar
1red onion, chopped
1tablespoon honey
3/4cup olive oil
1 1/2cups Manchego, finely grated and divided
Salt
Remove the cores from the radicchio and discard. Chop into 1-inch pieces. Take 1 gallon of water in a large bowl and add enough ice to make the water icy cold. Once cold, strain out the ice and add the radicchio to the water. Let it sit for 15 minutes to remove some of its bitterness, strain and then spin in a salad spinner until dry. Fluff the dried radicchio. (Note: If you don't strain the ice out before adding the radicchio you'll be pulling out ice pieces for half an hour so that you don't have wet radicchio.)
In a large bowl, add the balsamic vinegar, sherry vinegar, and chopped red onion. Break the onion up into pieces so that all of that oniony flavor gets into the vinegar. (Note: If you want to quick pickle and eat the onions themselves, Food52er hardlikearmour suggests adding the honey now too.) Let it sit for 1 hour and then strain out the onions.
Add the honey and olive oil to the strained vinegars and whisk.
Using your hands, toss the radicchio with the dressing until evenly coated. Add 1 cup of finely grated Manchego, salt, and toss again.
To serve, top the salad in a serving bowl with the remaining 1/2 cup grated Manchego or distribute salad and Manchego among 4 to 8 bowls or plates.